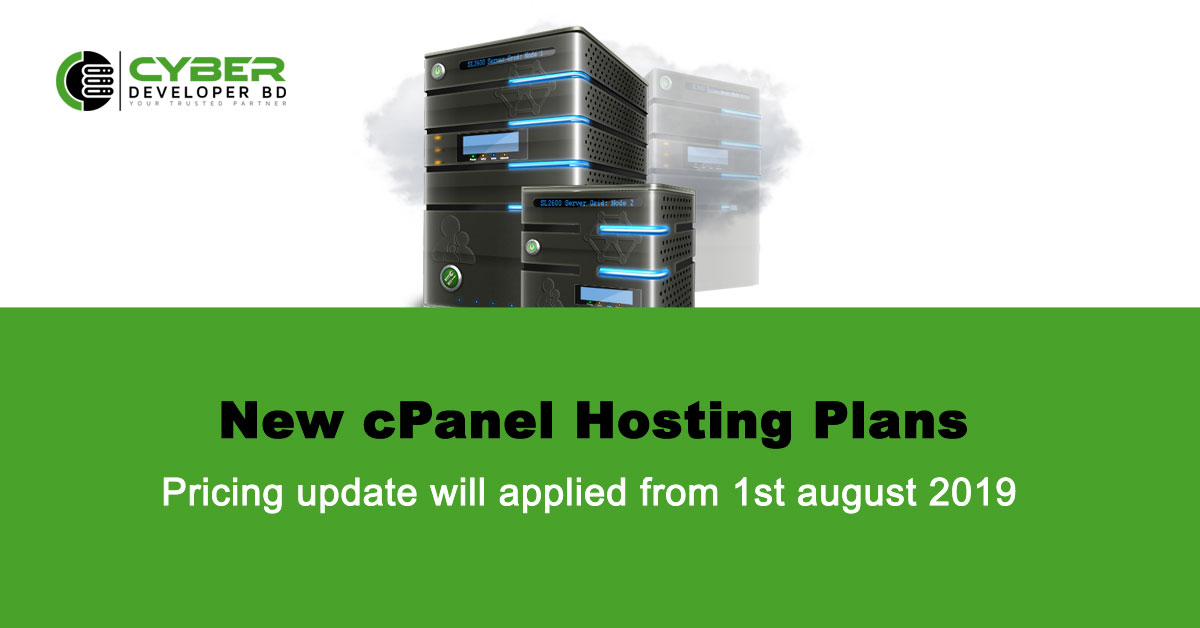 Announcing New Pricing Structure for All Shared and Reseller Hosting Packages
On Jun 27th, 2019, cPanel has been announced their new Account Based Pricing Model. This pricing model will affect worldwide web hosting prices. They have increased their cPanel licensing prices 7-10x then previous. As a result, our total costing of our server management and maintenance will also be increased. On the based of our new server management costing, we are announcing our new cPanel based web hosting prices for all shared and reseller hosting packages today.
Note: This price changes will affect on all of our new and existing customer's hosting prices. If you are enjoying any recurring discount offer then unfortunately you will upgraded to our new pricing structure or you will be moved to DirectAdmin hosting panel.
On the based of some important factors, we have decided to increase cpanel shared hosting price for all packages on USD $0.38 (BDT 30Tk) for monthly packages and USD $3.75 (BDT 300Tk) for yearly packages.
That mean If you are paying your hosting bill monthly $1.88 (150Tk) then you have to pay ($1.88+$0.38) $2.26 (180Tk) monthly or for yearly $18.80 (1500Tk) then you have to pay ($18.80+$3.75) $22.55 (1800Tk) from next billing cycle.
We have decided to make changes for reseller hosting with account limit based pricing structure. That mean if your package has 30 cPanel account limit than your price will be increased $0.38×25 = $9.5 for monthly (30×25=750Tk for monthly) and 5 account's prices will be free from all plans. For yearly if your package has 30 account limit then your price will be increased $0.38x25x12 = $114 (30x25x12= 9000Tk) in yearly plan.
For example of our Basic Budget Reseller Hosting price is $10/monthly or 800Tk monthly. The new price will be $10+(Total cpanel account limit-5)x$0.38 = $10+$9.5 = $19.5 monthly and for BDT currency 800Tk+750Tk = BDT 1550Tk/monthly.
Alternative Web Hosting Plans



If you are unhappy with this changes, we are introducing to you with our New DirectAdmin Hosting plans. DirectAdmin is very much alternative to cPanel. We also customise the user panel to look like cpanel so that our customer not feel difficulties to migrate from cpanel. You also get all common features like cPanel in DirectAdmin.
Our New Server Features:
Server Config:
Dual Xeon E5-2670 3.3GHz Turbo Processor

16 Core/8 threads Processor

32 GB DDR3 RAM

500 GB Pure SSD Storage

100TB Monthly Bandwidth

Server Location: USA
Hosting Features:
Customized DirectAdmin Control Panel

Pure SSD Disk Space

Cloudlinux Operating System

Open LiteSpeed Server (This is very much faster then Apache server)

PHP Version Selector Like cPanel

Softaculous Website Installer
Other Changes
1. We will stop selling our Basic 500MB hosting plan. Our hosting plan will start from 1GB.
2. The remote cloud backup service will no for free. You have to pay for backup service. For automatic cloud website backup features, you have to pay $1/month (Max 5GB local Stogare). And more then 5GB you have to pay additional $1 for per 10GB storage. Yearly price for backup service is $12.
3.We will remove our bKash and rocket gateway fee for domain, shared hosting, reseller hosting and some other services. For domain reseller, there will be no changes.
4. The prices will be applied on the 1st august 2019 and from your next billing cycle for shared hosting customer. And for reseller yearly hosting customer, you can pay for additional cPanel fee or you can choose to migrate to move in our new DirectAdmin panel.
5. We are going to remove Free Domain Registration Offer on our standard hosting plan from 21 July 2019. So you can buy more and more domain hosting service from this time period to get this biggest discount.
If you any question about our changes, please feel free to contact us via our support ticket or call us 8801720410850. Thanks for stay with us.